Votan is a commander in the Skrull Confederacy.
Biography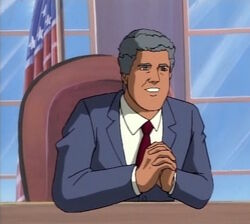 Votan impersonated USA president Bill Clinton to send Fantastic Four into a meaningless mission to Canada so Skrulls could start their plans to invade Earth.
When Reed Richards, pretending to be his own Skrull impersonator, used footage from old monster movies to make the Skrulls believe that Earth had these formidable creatures and the invasion was condemned to failure, the Skrull Emperor, Dorek VII, called Votan and ordered him to honor Reed with medals.
Personality
Votan is very loyal to other Skrulls and Dorek VII. He always follows his orders without question.
Background
Votan was voiced by Jim Cummings.
Votan is original to the series. His appearance in the series precedes a Skrull in the comics called Lord Votan, who first appeared in Star Masters #2, by over a year.
This is currently the only version of Votan outside the comics.
External Links
Community content is available under
CC-BY-SA
unless otherwise noted.