Francis Lee Bailey has passed away according to a statement by his son. He died Thursday in hospice care in Atlanta, Georgia. According to his son, he had been in poor health in recent years but did not give a cause of death. He was eighty-seven years old and a week short of his birthday. He is survived by his two sons Bendrix and Brian, sister Nancy, and five grandchildren.
Bailey was born June 10th, 1933 in Waltham, Massachusetts. His father was an advertising salesman and his mother was a teacher and nursery school director. He attended Harvard University but dropped out in 1952 to join the United States Navy before transferring to the Marine Corps. He was commissioned as an officer and received his Naval Aviator wings serving as a jet fighter pilot and squadron legal officer. After his service, he returned to Harvard before going to the Boston University School of Law. At the latter, he achieved the highest grade point average in the school's history and graduated in 1960 ranking first in his class.
He is most famous as a defense attorney. He was licensed in Florida and in Massachusetts before being disbarred for misconduct while defending in court. He defended Sam Sheppard, whose case inspired the series The Fugitive, winning a re-trial that would eventually get Sheppard a not guilty verdict. He defended Albert DeSalvo, the infamous Boston Strangler, who was convicted of assaults but not for stranglings despite confessing his guilt to Bailey. He defending Patty Hearst, a newspaper heiress who committed bank robberies after being kidnapped and brainwashed by the Symbionese Liberation Army. This was one of his most famous defeats, though he did protect her from the death-penalty. Her sentence was later commuted and she was eventually pardoned.
He is most well known for being part of the defense team of accused murderer O. J. Simpson. His cross-examination of detective Mark Fuhrman, in which he got Fuhrman to claim to have never used a derogatory term in reference to a black person only to later prove him wrong, is considered to be the key to Simpson's acquittal.
While defending accused marijuana dealer Claude DuBoc, he was sent to prison for forty-four days for contempt of court. His client was forced to forfeit shares of stock in a pharmaceutical company as part of a plea deal, but during the trial the stocks had increased. Bailey took the additional stock value for himself claiming it to be legal fees. He was not released until his brother raised the funds to pay for what Bailey took. Since the Simpson trial, he had gained much fame and thus more scrutiny on his actions. After being released from prison, he was found guilty of seven counts of attorney misconduct by the Florida Supreme Court and disbarred. Massachusetts disbarred him two years later.
He had a short life in entertainment. He was the host of a short-lived series titled Good Company where he would interview celebrities in their homes. He also hosted the show Lie Detector where he would question guests who were connected to a polygraph. He appeared as himself on The Mike Douglas Show and Matt Houston. He also provided some additional voices in the 1981 Spider-Man episode "The Sandman is Coming".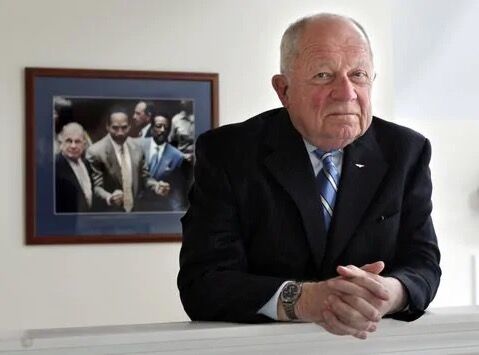 Community content is available under
CC-BY-SA
unless otherwise noted.