Thanksgiving Dinner

Real Name

Thanksgiving Dinner

Alternate Identity

Thanksgiving Feast
Thanksgiving Dinner is from the Non MAU series The Spectacular Spider-Man.
Thanksgiving Dinner is a large feast held on Thanksgiving Day. It is the most iconic feature of the day.
The main course is usually a large oven baked turkey. There are numerous other side dishes such as yams, mashed potatoes and gravy, stuffing, and whatever else the family desires.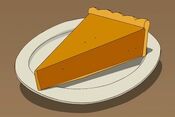 The meal is finished off with a variety of deserts such as pumpkin pie.
The meal can be difficult and extensive to make and requires much preparation. Some people who have never prepared the meal, or at least helped, do not realize how hard this can be.
Peter Parker tried to make the dinner when his aunt, May Parker, was ill in the Manhattan General Hospital. However, May did not think he could handle it and asked his close friend Gwen Stacy to prepare the meal and bring it over.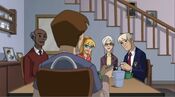 Peter began preparing a meal but burned the yams, something spilled over on the stove, and he made a general mess. Gwen also began preparing food and the turkey that same morning and did not make a mess. That night she and her father, George Stacy, brought over the food and had a feast with Peter, May, and Dr. Bromwell.
External Links
Community content is available under
CC-BY-SA
unless otherwise noted.