Sabretooth

Alternate Identity

Sabretooth
Powers

and Abilities

Healing Factor, Superhuman senses plus strength and Claws

Team Affiliations

Team X

Allies

Magneto
Sabretooth is from the Christopher Yost Animated Universe.
Sabretooth is a mutant, supervillain, member of Team X, and archenemy to Wolverine.
Biography
Sabretooth was a member of Team X as part of the Weapon X program, along with Wolverine who escaped. He and the other Team X members tried to capture Bruce Banner to control the Hulk but the green giant escaped and nearly killed him. He later attempted to bring Wolverine back to Weapon X without success.
Background
Sabretooth was voiced by Mark Acheson on Hulk vs Wolverine and Peter Lurie on Wolverine and the X-Men.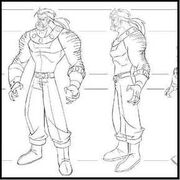 Concept art was created for the character's Age of Apocalypse version. It was released with Archangel, Weapon X, Holocaust, Colossus, Sunfire, Cyclops, and Magneto. In the comics, this version was a hero and leader of the X-Men.
His name is Victor Creed, but this was not specified.
External Links
Community content is available under
CC-BY-SA
unless otherwise noted.