New Year's Day is from the Non MAU series The Spectacular Spider-Man.
New Year's Day is a holiday taking place on the first day of the year. Usually people reflect on how they would like to change their life in the beginning year.
Traditions
New Year's Eve is usually spent staying up late till midnight to celebrate the changing of the years. People will gather with their relatives and loved ones, sometimes eating snacks.
As the midnight hour approaches, it is customary to do a countdown from ten seconds before.
It is tradition to kiss the one you love at the stroke of midnight.
In New York City, there is a large celebration in Times Square. They instal an enormous ball that drops with the countdown. The event is televised and many people attend.
History
One New Year's Eve, Mary Jane Watson tried to set Peter Parker and Gwen Stacy on a date by suggesting they see the ball drop.
Gwen was later kidnapped by Electro and Vulture as part of Doctor Octopus's plan to take over the world. He coerced George Stacy into infiltrating the Department of Homeland Security office in New York to upload a virus. However, Spider-Man saved Gwen and stopped Doctor Octopus.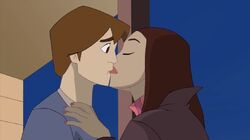 That night, Peter Parker spent the night with his Aunt May while Gwen stayed at home with her father. Peter tried to call Gwen but George had taken her phone so she could rest. Liz Allan went to Peter and told him that she broke up with Flash Thompson and wanted to be with Peter. The two kissed at the stroke of midnight while Gwen was on the phone.
External Links
Community content is available under
CC-BY-SA
unless otherwise noted.