The Masters of Evil

Team Affiliations

Baron Zemo, Tiger Shark, Whirlwind, Boomerang, Absorbing Man, Cardinal, Dragonfly, Moonstone
The Masters of Evil were a team of villains who appeared in The Avengers: United They Stand. The team consisted of Baron Zemo, Tiger Shark, Whirlwind, Boomerang, Absorbing Man, Cardinal, Dragonfly, and Moonstone. Their plan was to steal an EMP generator to shut down all electricity in the area.
Baron Zemo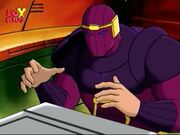 Baron Helmut Zemo was the leader of the Masters of Evil. His father was a Nazi terrorist named Baron Heinrich Zemo. Captain America killed him in a plane crash, presumably before Cap was trapped in the vortex with the Red Skull.
Tiger Shark was originally Todd Arliss, an Olympic swimmer for the USA. After a freak accident involving the Atlanteans, Arliss gained the power to swim at high speed and breath underwater. He designed a spiffy looking costume and called himself Tiger Shark.
Whirlwind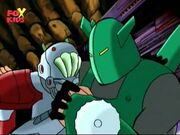 Whirlwind was originally a supervillain created by the Mandarin to be one of his minions. Whirlwind faced off against Iron Man and Force Works many times until the Mandarin was destroyed. He then found a new boss, in Baron Zemo.
Boomerang
Boomerang was originally Fred Myers, a young boy with a love for baseball. After they refused his request into the major leagues, he turned to crime. The Kingpin gave him a suit and an arsenal of deadly Boomerangs. He decided to test out his new powers on the Avengers.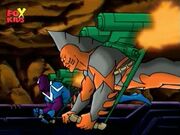 Absorbing Man
Carl Creel was a boxer who was jailed for cheating the rink out of money. In prison, Thor's stepbrother Loki was breaking the Wrecking Crew out of prison and left behind a potion. Carl drank it, turning him into the Absorbing Man.
Cardinal
Don Clendenon was Gulf War veteran who was granted a powerful suit of armor by Baron Zemo to add to the roster of his Masters of Evil.
Dragonfly
Veronica Dultry was a mutant with wings. She was hired by Zemo to be a member of the Masters of Evil.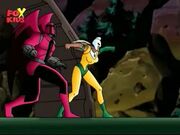 Moonstone
Dr. Karla Sofen was a psychiatrist who was tired of depending on patients for income and entered the criminal career. After obtaining a gem from space, she absorbed its powers and became Moonstone. She was the last member to join the Masters of Evil, after Grey Gargoyle resigned.
Community content is available under
CC-BY-SA
unless otherwise noted.