| | |
| --- | --- |
| This article is written from the Real World perspective | |
Marvel Animation Universe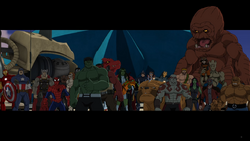 Not to be confused with Marvel Animated Universe.
The Marvel Animation Universe is a cross-series universe created by Marvel Animation. The universe spans across Ultimate Spider-Man, Avengers Assemble, Hulk and the Agents of S.M.A.S.H., Marvel Super Hero Adventures: Frost Fight!, and Hulk: Where Monsters Dwell.
The universe is the first to be created by Marvel itself rather than separate companies.
It started on April 1st, 2012 with the Ultimate Spider-Man episode "Great Power". It ended March 11th, 2018 with the Avengers Assemble episode "All Things Must End".
Marvel Handbooks finally gave it the designation Earth-12041 in Secret Wars: Official Guide to the Marvel Multiverse.
The third season of Guardians of the Galaxy began crossing over with Spider-Man, creating confusion as to which universe the shows belonged to. It was later confirmed that Guardians of the Galaxy is set in the same continuity as Spider-Man rather than this continuity. This new continuity, dubbed the Eric Radomski Animated Universe, would include the final season of Avengers Assemble as well.[1][2]
References
External Links