Ivan Vanko is from Iron Man: Armored Adventures in the episode "Iron Man vs. the Crimson Dynamo". He was voiced by Mark Oliver. This was the first version of the character outside the comics, chosen because he was going to appear in the then-upcoming film Iron Man 2.

Ivan was a Russian cosmonaut who worked for Project: Pegasus. He had a wife named Isabella and a son named Mikhial. He was chosen to test out the Crimson Dynamo armor, an experimental armor designed to study the sun closer than otherwise possible. He joined Anton Harkov on Prometheus One and journeyed to the sun. The armor performed well but a solar flare engulfed the armor and destroyed the station. Anton escaped in the shuttle but was forced to leave Ivan in the armor behind to die or else run out of fuel. It took two years, but Ivan eventually returned to Earth and swore vengeance on Anton.

Crimson Dynamo landed in New York City and began rampaging down an unfinished freeway towards Anton. He encountered the newly revealed armored hero Iron Man, whose best efforts were no match for Ivan's suit. Ivan eventually ignited a fuel truck forcing the hero to head into space to cool off. Ivan continued to the gates of Project: Pegasus where Anton and Iron Man were waiting for him. He defeated the hero again and found the sniveling Anton begging for his life. He was about to kill his former colleague when his wife and son entered, who had been brought by Pepper Potts. Upon seeing his family Ivan stopped his rampage and left the suit to go to the hospital. The Crimson Dynamo armor was taken away, where it would be stored until it was used by Obadiah Stane's bodyguard.




What's new on Marvel Animated Universe Wiki

Create blog post

Blogs

Today is the twenty-fifth anniversary of the premiere of Casper. The film follows a father and daughter as they move into a haunted mansion in order t…

Read more >

See more >
Which classic show do you most want to see come to Disney+?
Helping Out
To write a new article, just enter the title in the box below.
Not sure where to start?
Featured Media
Spider-Man from the 1940s all black-and-white universe introduces himself to the Spider-Gang, while accompanied by a mysterious unexplained wind that follows him everywhere. (Spider-Man: Into the Spider-Verse)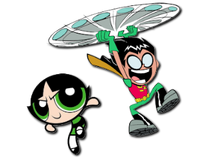 Community content is available under
CC-BY-SA
unless otherwise noted.