The Thanksgiving Day Parade is an annual event held on Thanksgiving Day morning in New York City. The event appeared in The Spectacular Spider-Man episode "Nature vs. Nurture". It is based on the Macy's Thanksgiving Day Parade, but any trademark reference is omitted making it a generic parade. In real life, Spider-Man has been a recurring figure of the parade since 1987.

Perhaps the most iconic feature of the parade is the numerous parade balloons. These enormous helium-filled balloons are shaped as characters, animals, and notable figures. They require several people to hold as they can float away causing damage. Numerous groups and organizations, both locals and those from afar, participate in the parade. Numerous high school marching bands come and play songs for the crowds. Even high school football teams and cheerleaders participate.

One year, the students of Midtown Manhattan Magnet High School participated in the parade with the band marching and the football players and cheerleaders carrying a balloon of their mustang mascot. Before it started, Venom kidnapped Gwen Stacy in order to hurt Spider-Man emotionally and physically. Venom webbed her to a gorilla balloon and let her hang so she would slowly drop until she fell to her death. Spider-Man tried to save her but Venom kept him busy. During the fight, the balloon was damaged and began to deflate. Spider-Man saved her while Mary Jane Watson and Flash Thompson got the Midtown High students to use the damaged balloon as a safety net catching her. The battle continued and when Venom got the upper hand Spider-Man seemed to give up. He tricked the symbiote into leaving Eddie Brock then captured it to encase it in drying concrete.




What's new on Marvel Animated Universe Wiki

Create blog post

Blogs

Today is the thirty-eighth birthday of Sebastian Stan. Born on this day in Constanța, Romania, the actor lived with his single mother in Austria befo…

Read more >

See more >
What are you most looking forward to with Disney+?
Helping Out
To write a new article, just enter the title in the box below.
Not sure where to start?
Featured Media
The classic line-up of Avengers comprised of Captain America, Iron Man, Thor, Wasp, Giant Man, Black Panther, Hawkeye, Black Widow, and Vision. (Next Avengers: Heroes of Tomorrow)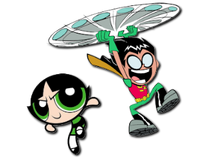 Community content is available under
CC-BY-SA
unless otherwise noted.