Donald Blake is the alternate identity of the superhero Thor. Despite Thor appearing in several episodes across multiple series, he only appeared in the The Incredible Hulk episode "Mortal Bounds" voiced by Mark L. Taylor.

Through unspecified means, Donald became tied to the Asgardian God of Thunder. Since he had a limp he carried a cane. When he chanted and taped the cane to the ground he would transform into the mighty Thor, with the cane becoming the magical Uru hammer Mjolnir. However, if Thor loses Mjolnir for a certain amount of time he transforms back into Donald.

Donald is a highly respected doctor. When a gamma radiation virus broke out in Detroit, he was called in to help. He called in gamma expert Betty Ross, but she told him that he should find Bruce Banner. He thought Bruce was dead, but she revealed that if he found Hulk he would find Bruce. Donald sneaked away from the hospital and transformed into the powerful Avenger. Thor went to Mount Rushmore and rescued Hulk from General Ross and the Hulkbusters.

However, the mere mention of Banner enraged Hulk and he attacked Thor. He overpowered Thor losing Mjolnir and transforming back into Donald. Hulk didn't see the change and left Donald alone. He returned to the hospital where Betty had created a synthetic vaccine, which wouldn't cure the virus but would slow it down. Then Bruce came in with a homeless man and the two doctors met. The two examined the virus, and Bruce noted that it did not affect him due to his gamma radiated blood and revealed that he is Hulk. Then the homeless man, delirious due to symptoms, attacked Betty infecting her. Without the source of the virus, there was no cure for her and she wouldn't live long. Just then Abomination, who had also been infected, attacked the hospital and kidnapped Bruce.

Betty continued to get worse. Donald discovered that Abomination had tracked in salt, and that victims of the virus produced salt. Seeing a connection, Donald transformed into Thor and went into the salt mines under the city. He found Hulk and and a cured Abomination fighting. The two heroes teamed up after Thor told the jade giant that Betty was sick. The two returned to the hospital where Betty was near death. Gargoyle appeared and gave Bruce the cure they had developed together in the mine. Donald and Bruce replicated the cure and saved Betty. However, the Hulkbusters and S.H.I.E.L.D. appeared and Donald warned Bruce so he could leave in time.




What's new on Marvel Animated Universe Wiki

Create blog post

Blogs

Artist Tom Lyle passed away today. Two weeks ago, he underwent surgery to remove a clot from his brain following an aneurysm but fell into a coma. He…

Read more >

See more >
What are you most looking forward to with Disney+?
Helping Out
To write a new article, just enter the title in the box below.
Not sure where to start?
Featured Media
Time-traveler Bishop decides to go the way of The Terminator in order to stop an assassin to prevent a nightmarish future. ("Days of Future Past, Part One")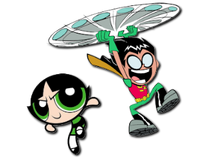 Community content is available under
CC-BY-SA
unless otherwise noted.