Halloween is a holiday occurring on the final day of October. It is the first of the "holiday season" that is followed by Thanksgiving Day, Hanukkah, Christmas, Kwanzaa, and New Year's Eve. It is a day of various celebrations and traditions based on horror and the occult.

Perhaps the most iconic tradition of Halloween is dressing up in costumes. People dress up as a variety of characters including vampires, pirates, animals, and even real figures like superheroes. Those who have dual identities are able to hide in plain sight. Black Cat went out in her outfit while Peter Parker claimed his Spider-Man outfit was a costume when Gwen Stacy discovered him. Kids dress up and go around Trick or Treating to get candy. People can dress as anything even if embarrassing, such as when the Midtown High football team lost a bet and had to be cheerleaders.

Jack-o'-Lanterns have become the most recognizable symbol of Halloween. People carve pumpkins into shapes and faces putting a candle inside to light them up. The Bleecker Street Carnival had a Jack-o'-Lantern contest. Green Goblin based his pumpkin bombs on Jack-o'-Lanterns. He even had a variety that would work like fireworks exploding in a Jack-o'-Lantern design.

One Halloween, John Jameson's shuttle was hit by an asteroid. Through great risk, he managed to land the shuttle. At the same time, Green Goblin decided to move against Tombstone. He kidnapped Hammerhead then told the Big Man and Spider-Man that he had evidence against Tombstone. He lured them to a steel mill but they fought the goblin off. Meanwhile, Gwen became aware of Harry Osborn's Globulin Green addiction. She and Peter tried to talk to him but he never showed up. After Spider-Man tracked Green Goblin to the Osborn's penthouse, he discovered Harry in the Goblin costume. He and Norman agreed to cover up his dual identities while he got the help he needed. The next day, J. Jonah Jameson became enraged that Spider-Man's battle with Green Goblin outsold the story on his son and he became determined to turn the city against him. John then found the symbiote on the hull of the shuttle.




What's new on Marvel Animated Universe Wiki

Create blog post

Blogs

Today marks the twentieth anniversary of the premiere of X-Men. The film follows the titular mutant hero team as they recruit Wolverine and Rogue into…

Read more >

See more >
What are you most looking forward to with Disney+?
Helping Out
To write a new article, just enter the title in the box below.
Not sure where to start?
Featured Media
Black cats and goblins and broomsticks and ghosts. Covens of witches with all of their hosts. You may think they scare me. You're probably right. Black cats and goblins on Halloween night. Trick or treat!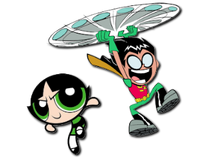 Community content is available under
CC-BY-SA
unless otherwise noted.