Frankenstein's Monster is the titular character of Toei Animation's second Marvel Comics film The Monster of Frankenstein. He was voiced by Richard Epcar in English and Hosei Komatsu in Japanese. While the original comics closely followed the Mary Shelley book, this version is more inspired by the Universal classic monster movie series.

Long ago, a professor named Frankenstein came up with the theory to reanimating dead bodies in order to cure disease and provide immortality. However, he felt his ideas were blasphemous and discarded them. His son, Victor, learned of these ideas and, despite his father's objections, moved forward to making them a reality. He went to a far land making a lab in an abandoned castle with his assistant, Zuckel. They dug up bodies and created an enormous man. One stormy night, the two brought their creation to life. The creature was given life through electricity, but his appearance terrified the two and they immediately wished him destroyed. The two fled, but the monster followed where he took one of Zuckel's eyes before falling off a cliff.

The monster made his way to Lake Geneva, Victor's hometown, searching for his father and creator. His efforts to satisfy his natural hunger inadvertently caused him to terrorize the countryside, bringing the attention of local authorities. He attacked families and even killed people just to get some food. At one point, he found Zuckel and murdered him after the man attacked him again. The police found him after he literally crashed a wedding and chased him into the woods, wounding him. He made his way to his own grandfather's cabin, where he moved after his fight with Victor. The monster heard Emily, Victor's daughter, singing and was touched by her innocence. The next day he entered the cabin and met the blind Grandfather, who welcomed him after realizing who and what he was. Emily's initial fear of him caused him to flee, where he was confronted by Victor trying to kill him. He knocked his creator out then saved Emily from an attacking bear. Emily realized that the creature was a good person and the two became good friends, eventually calling himself Franken after the short amount of his father's name he could say.

While helping with chores, an angry mob found and attacked Franken. He fled but the mob accidentally caught the forest on fire. Grandfather went after him but was caught in the blaze. Franken overcame his fear of fire, brought on after lightning caught his bandages on fire, and saved Grandfather from the inferno. Unfortunately, the two found Elizabeth, Victor's wife, and were helpless when a blazing trunk fell on her killing her. Realizing how he was endangering everyone around him, Franken left Grandfather in sight of the mob and fled. He was chased by the mob into town and confronted by Philip, Emily's friend. Philip blamed the monster for Elizabeth's death and tried to shoot him. Franken tried to get the gun away from the boy, and ended up killing him. Emily saw this and shot him through the hand. Franken escaped to a church where he saw Jesus on the cross and remembered Emily's teachings of God. However, Victor once again shot him and he fled to a cliff in the Badlands. The police attacked and Franken killed several in retaliation. Just as he was about to finish them off, he stopped because of Emily's words about not hurting anyone. Victor appeared and tried to kill him, but Emily stopped once her grandfather told her how he tried to save Elizabeth. Victor relented his in pursuit of destruction while Emily apologized for how she acted. Wishing to keep her protected any further harm because of him, Franken threw himself off the cliff and finally died.




What's new on Marvel Animated Universe Wiki

Create blog post

Blogs

It's that time again when a new month arrives and another poll finishes. In June, we asked, with Miles Morales getting a sequel and Gwen Stacy gettin…

Read more >

See more >
What is your favorite entry in Christopher Yost's animated universe?
Helping Out
To write a new article, just enter the title in the box below.
Not sure where to start?
Featured Media
The God of Mischief Loki is dragged down to the depths of Hel by the spirits under control of his daughter Hela. (Hulk vs Thor)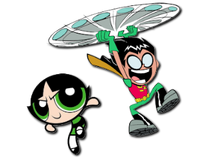 Community content is available under
CC-BY-SA
unless otherwise noted.