Hobgoblin is a major villain on Spider-Man, recurring throughout the first three seasons, voiced by Mark Hamill. He is based on the Jason Macendale version. Quite controversial at the time, Hobgoblin appeared first and was instrumental in the creation of Green Goblin. However, he was widely praised as an exceptional villain, particularly in Hamill's performance.

Jason Philip Macendale was a petty crook who dreamed of making it big. When Norman Osborn wanted Wilson Fisk dead, he hired Macendale giving him advanced OsCorp Industries weaponry. Using the hobgoblin of folklore as inspiration, Jason wore a Halloween costume to strike fear into his enemies. His attempts to kill Fisk was thwarted by photographer Peter Parker and he was chased off by the superhero Spider-Man.

After being betrayed by Osborn he learned that Fisk was actually the Kingpin of Crime. He began playing the two off each other, kidnapping Harry Osborn and getting bigger weapons, until he managed to overthrow Fisk taking his empire. Spider-Man found his way to Kingpin's hideout and defeated Hobgoblin. Fisk used the distraction to take back his facilities.

While in hiding, Hobgoblin found that Herbert Landon was using Hank McCoy's research to destroy all mutants. After Landon tried to kill him, Hobgoblin attacked him at a public demonstration where he encountered the wallcrawler again. He pursued Landon and came across Spider-Man, who was then confronted by the X-Man Wolverine. He fled the two battling heroes and managed to steal all of Landon's data. When the data was destroyed for good, Hobgoblin left after Landon turned into an enormous creature that the webslinger and children of the atom had to defeat together.

Macendale used his ill-gotten money to become Jason Philips. He began living lavishly and became engaged to socialite Felicia Hardy. Eventually he found that Kingpin had developed interdimensional portal technology. Realizing he could go anywhere at any time, Hobgoblin found and stole the only portal device. He began stealing anything and everything until the battery began to run low. He allied with Kingpin in exchange for more batteries. However, they were confronted by the newly created Green Goblin. The new villain easily overpowered Hobgoblin who fled within a portal.

Hobgoblin found that Felicia had discovered his dual identities. He was threatening her when Green Goblin appeared. He captured the two and took them to OsCorp. The second goblin was going to kill him to make things easier for Osborn, with Felicia just getting in the way. Spider-Man appeared and fought Green Goblin rescuing the two. With his secret exposed, Jason admitted that he only wanted Felicia as a trophy and was arrested for his crimes. Spider-Man later fought an alternate Hobgoblin who had teamed up with Green Goblin, Kingpin, and Alistair Smythe all under the command of an evil version of himself: Spider-Carnage.




What's new on Marvel Animated Universe Wiki

Create blog post

Blogs

Today is the fifty-fifth birthday of Robert Downey, Jr.. He was born in Manhattan on this day in 1955 to actors Elsie Ann and Robert Downey, Sr.. He …

Read more >

See more >
What is your favorite entry in Christopher Yost's animated universe?
Helping Out
To write a new article, just enter the title in the box below.
Not sure where to start?
Featured Media
Grim grinning ghosts come out to socialize. (Doctor Strange: The Sorcerer Supreme)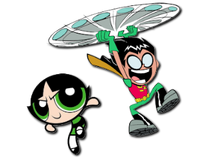 Community content is available under
CC-BY-SA
unless otherwise noted.