The Bleecker Street Carnival is an event seen in The Spectacular Spider-Man episode "The Uncertainty Principle". It is set in a real New York City location and minor recurring comic location.

The carnival is set up every October to celebrate Halloween. The street is closed off, decorations are hung between the buildings, put hay and scarecrows on the ground, and local groups set up booths for fundraising. They also have a Jack-o'-Lantern carving contest.

Midtown High School set up a booth to sell cookies. It was run by Liz Allen, Sally Avril, and Glory Grant. From the booth, the girls watched as the football team, having lost a bet, dressed like cheerleaders and rallied the crowd. Black Cat appeared in her outfit, possibly stealing something.

Gwen Stacy chose the carnival as the chance to talk to Peter Parker about Harry Osborn. She had discovered he was abusing an unknown drug and want to discuss it with Peter. While waiting, she met Mary Jane Watson for the first time. Peter eventually showed up but Gwen saw him in his Spider-Man outfit. He passed it off as his costume getting the other girls excited. Before Gwen could talk to him, Peter left to investigate a fireworks show set off by the Green Goblin.




What's new on Marvel Animated Universe Wiki

Create blog post

Blogs

Today is the thirty-eighth birthday of Sebastian Stan. Born on this day in Constanța, Romania, the actor lived with his single mother in Austria befo…

Read more >

See more >
Marvel has teased that almost the entire cast from the Marvel Cinematic Universe will return to the animated series What If...?. If the series brought in the live-action shows, which series would you most look forward to seeing brought in?
Helping Out
To write a new article, just enter the title in the box below.
Not sure where to start?
Featured Media
Ravens pick at the corpses of the enemies of Transylvania as Vlad the Impaler earns his name. (Dracula: Sovereign of the Damned)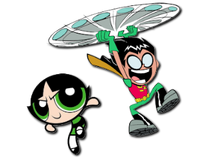 Community content is available under
CC-BY-SA
unless otherwise noted.