"Prey of the Black Panther" is the twentieth episode of Fantastic Four, and seventh episode of the second season, originally airing November 11, 1995. It is based on Fantastic Four #52 and #53, which featured the introduction of Black Panther and Klaw in the comics. It is Black Panther's first appearance outside the comics other than a one-shot cameo in the X-Men episode "Sanctuary, Part One", which aired twenty-one days before this one.

Director and producer Larry Houston intended the episode to be a backdoor pilot for a Black Panther animated series. He had been attempting to do a series on the character and used his early developments as the basis for this episode. Actor Keith David was going to sign onto the series to play the character full time.

Outside of Wakanda, two intruders encounter an enormous red gorilla, made of sound turned into matter. Two Wakandan hunters witness the creature suddenly disappearing and tell their chieftain T'Challa (David). At Four Freedoms Plaza, Thing (Chuck McCann) wanders around as everyone else sleeps when he sees an intruder alarm on the roof. He investigates finding a man in a black cat outfit. The man attacks Thing and flees. The other members of the Fantastic Four wake and follow in the Fantasticar. The craft becomes trapped in a magnetic field and is forced to follow to Africa.

The four land in an enormous metal jungle and are confronted by the intruder, Black Panther. They are separated so that Black Panther could take them on one on one. First, he lures Human Torch (Quinton Flynn) into a vacuum chamber extinguishing his flames. He is able to smell Invisible Woman (Lori Alan) and knocks her out. After sapping Thing's strength, he freezes him. He believes his victory is assured when he traps Mister Fantastic (Beau Weaver), but is confronted by the freed Human Torch. Once defeated, Black Panther reveals that he is T'Challa and sought to see if he was strong enough to face his archnemesis. He reveals that his father T'Chaka was killed by Ulysses Klaw (Charles Howerton) who is seeking vibranium. T'Challa stopped Klaw's first attack who vowed to come back. T'Challa spent his life preparing for Klaw's return.

The five heroes are alerted to the red gorilla's return. Human Torch destroys it and Black Panther realizes where Klaw is. He goes to the vibranium mines followed by Mister Fantastic. They knock Klaw into the machine destroying it. Klaw returns as a being of pure sound able to summon any sound creatures as he pleases. They realize that vibranium absorbs sound and knock Klaw onto the vibranium mound destroying him completely. Feeling his purpose is done, T'Challa decides to retire the Black Panther, but the Fantastic Four convince him to continue being a superhero.




What's new on Marvel Animated Universe Wiki

Create blog post

Blogs

Today is the fifty-fifth birthday of Robert Downey, Jr.. He was born in Manhattan on this day in 1955 to actors Elsie Ann and Robert Downey, Sr.. He …

Read more >

See more >
Which live-action Spider-Man film actor would you like to see reprise their role in a future animated Spider-Verse film?
Helping Out
To write a new article, just enter the title in the box below.
Not sure where to start?
Featured Media
T'Challa and his wife Ororo Munroe hold up their newborn son Azari before the people of Wakanda he is destined to rule. The shot is a visual and thematic reference to the Walt Disney Animation Studios film The Lion King. (Next Avengers: Heroes of Tomorrow)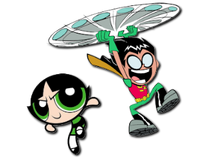 Community content is available under
CC-BY-SA
unless otherwise noted.