Spider-Man is the title character of Spider-Man and it's loose sequel Spider-Man Unlimited. He also made cameo appearances in the X-Men episodes "Child of Light" and "The Inner Circle" and Fantastic Four episode "Nightmare in Green". The character was voiced by Christopher Daniel Barnes on Spider-Man and Rino Romano on Spider-Man Unlimited. Warren Sroka voiced Peter as a child in "The Mutant Agenda" while Peter Mark Richman played the elderly version in "The Final Nightmare".

After the deaths of Richard and Mary Parker, their son Peter was sent to live with Richard's brother Ben and his wife May in Queens. He was smart but bullied by bigger boys and rejected by women. At a science experiment held by Dr. Curt Connors, Peter was bitten by a radioactive spider and given superpowers. While trying to make money, Peter let a thief go who went and killed his Uncle Ben. He then dedicated his life to being a superhero living by his uncle's motto that "With great power comes great responsibility."

Peter took a job at The Daily Bugle taking pictures of his alter ego. He was rivals with fellow photographer Eddie Brock until Brock was fired becoming the supervillain Venom. He attended Empire State University and began dating both Felicia Hardy and Mary Jane Watson. He began fighting other villains like Scorpion, Shocker, Rhino, Hobgoblin, Kingpin, and the Spider-Slayers. While J. Jonah Jameson used the Bugle to smear the hero, he still managed to become well liked and even got the thanks of Nick Fury and S.H.I.E.L.D..

When his enemies formed the Insidious Six, Peter began experiencing problems with his powers. Dr. Connors told him that his powers were further mutating. He tried to seek help from the X-Men, who could only help him deal with his mutation not cure it. He eventually turned into Man-Spider requiring Kraven the Hunter and Punisher to team up to save him. Eventually, Connors used Vulture's age-stealing technology to transfer the mutation into the old man curing Spider-Man.

The interdimensional being Madame Web appeared to prepare him for major battle. During this time he saved Mary Jane from Baron Mordo, saw the return of Venom and birth of Carnage, and encountered his greatest enemy: the Green Goblin. Green Goblin discovered his secret identity and caused Mary Jane to disappear into limbo. Spider-Man became depressed and initially did not want Black Cat to be his partner. When Mary Jane returned, he revealed his identity and the two got married. He learned his parents were considered traitors and travelled to Russia to clear their name, but got drawn into a plot that extended back to World War II that included Captain America and Red Skull.

Peter eventually learned that Mary Jane was actually a clone created by Miles Warren for Hydro-Man's clone. The two were unstable and evaporated. Spider-Man met Beyonder who started the Secret Wars. Spider-Man led some of Earth's mightiest heroes including Iron Man, Captain America, Storm, Black Cat, and the Fantastic Four against the forces of evil eventually winning. He was then sent to an alternate universe that had been taken over by a symbiote-powered villain version of himself called Spider-Carnage. He led the Spider-Men, various alternate versions of himself, and stopped Spider-Carnage from destroying all of reality. He found a version of Uncle Ben that was still alive who convinced Spider-Carnage to sacrifice himself. He then met Stan Lee and Madame Web took him to rescue the real Mary Jane.

When Venom and Carnage stowed away on John Jameson's shuttle to Counter-Earth, Spider-Man left Mary Jane and followed to rescue him and stop the symbiotes from taking over the planet. While there, he found that John was part of a revolutionary group fighting for human equality against the oppressive High Evolutionary and his Bestial army. He teamed up with Counter-Earth versions of Green Goblin, Vulture, and X-51 while fighting against Electro, Knights of Wundagore, and the Machine Men.




What's new on Marvel Animated Universe Wiki

Create blog post

Blogs

Today is the forty-third birthday of Milo Ventimiglia. He was born on this day in Anaheim, California to Carol and Peter Ventimiglia. He got his firs…

Read more >

See more >
Miles Morales and Gwen Stacy are getting their own sequel and spin-off, respectively, from Spider-Man: Into the Spider-Verse. Which other character should get their own movie set in their own universe?
Helping Out
To write a new article, just enter the title in the box below.
Not sure where to start?
Featured Media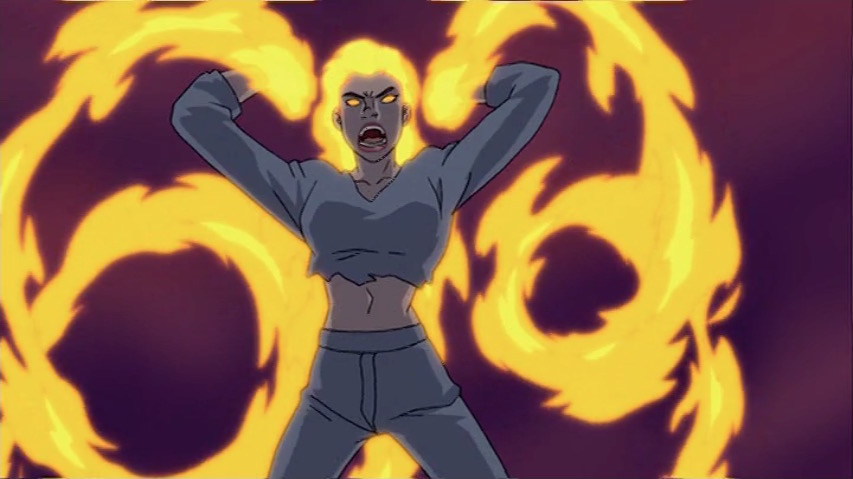 In a dystopian future, Firestar unleashes her fury on a Sentinel. ("Future X")