"Shear Strength" is the seventeenth episode of The Spectacular Spider-Man. It originally aired on January 31, 2009. It was written by Randy Jandt and directed by Jennifer Coyle. The episode features the reveal of the Master Planner, which had been teased since the beginning of the season.

In a large underwater facility, Tinkerer (Thom Adcox-Hernandez) introduces Electro (Crispin Freeman) and Vulture (Robert Englund) to the real Master Planner: Doctor Octopus (Peter MacNicol). He faked his kidnapping in "Reinforcement" to throw off suspicion. He then begins his master plan, to use his neural chip to take over any computer he wants. On New Year's Eve, Norman Osborn (Alan Rachins) has invited Peter Parker (Josh Keaton) to witness a demolition headed by Morris Bench (Bill Fagerbakke). However, the timers go off on their own and Spider-Man saves the them. While Doctor Octopus promises to still kill Osborn, he moves onto his other plans.

At a cafe, Mary Jane Watson (Vanessa Marshall) tries to set up Peter and Gwen Stacy (Lacey Chabert) on a date, following their kiss in "Nature vs. Nurture", by getting the two to see the ball drop in Times Square. The two are excited to do so, until Peter sees Liz Allan (Alanna Ubach). Mary Jane reassures Gwen that Peter loves her, but then all the computers in the area go haywire. After Doctor Octopus causes a massive car pile-up outside as a distraction, Electro knocks out Gwen and Vulture flies off with her. Spider-Man gives chase but only catches Tinkerer. He throws the scientist off a building to get information.

At the same time, Doctor Octopus contacts George Stacy (Clancy Brown) informing him of his daughter's second kidnapping (the first done by Venom). He forces the captain to infiltrate the Department of Homeland Security's New York City offices so that the doctor can get control of their systems. George enters and reluctantly follows the plan, while Vulture distracts the FBI agents stationed there. Spider-Man infiltrates Doctor Octopus' facility and finds Gwen. He is attacked by Electro, but tricks the villain into damaging the facility and computers. Doctor Octopus reveals himself as Master Planner and joins the battle, but damages the mainframe so the information comes at him too quickly to control. He leaves but activates a self-destruct mechanism. Spider-Man struggles to get himself and Gwen free and escapes the destruction.

George is relieved when Gwen calls him then destroys the device the supervillain gave him. That night, Peter and Aunt May (Deborah Strang) are watching the countdown to New Year's Day when he goes to call Gwen. George answers, trying to help her relax, when Liz shows up at Peter's door. She tells him she broke up with Flash Thompson for good and wants to be with him. As midnight arrives the two kiss, while Gwen is left wondering if Peter is still on the other end of the phone.




What's new on Marvel Animated Universe Wiki

Create blog post

Blogs

Today is the forty-third birthday of Milo Ventimiglia. He was born on this day in Anaheim, California to Carol and Peter Ventimiglia. He got his firs…

Read more >

See more >
What is your favorite role of actress Jennifer Hale?
Helping Out
To write a new article, just enter the title in the box below.
Not sure where to start?
Featured Media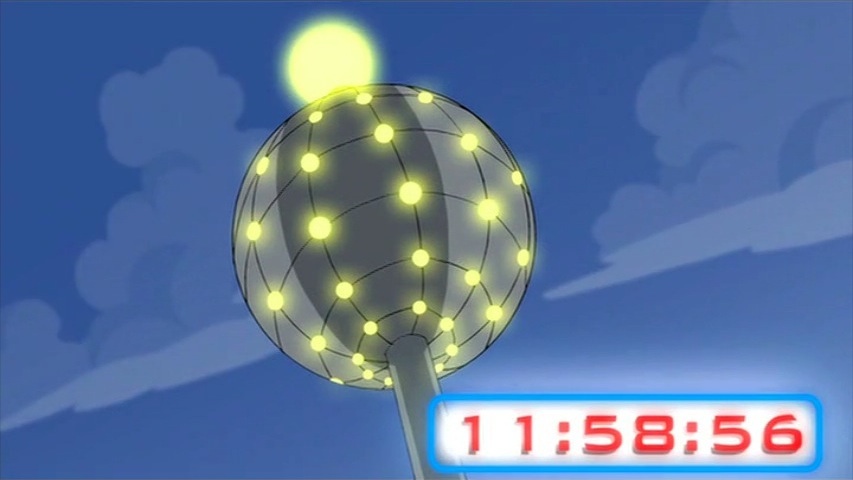 The ball descends over Times Square heralding the coming of a new year. ("Shear Strength")