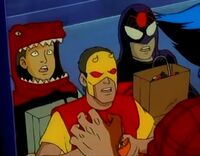 Halloween is a holiday seen in the X-Men episode "Bloodlines" and mentioned in the Spider-Man episode "The Hobgoblin, Part One". It is a day centered on the occult that occurs at the end of October.
On the day, people carve pumpkins into Jack-o'-Lanterns featuring scary faces. Children dress up in costumes going trick or treating. They dress up like animals or sometimes superheroes like Daredevil. The children approach houses and the people give them candy.
One year, the Xavier Mansion decorated for Halloween but everyone except Logan and Jubilee left. Logan disliked the holiday, feeling it made fun of mutants, but decided to have fun by wearing a Beast mask to scare the children. That night, Nightcrawler appeared asking for help. He, Wolverine, Jubilee, and Rogue went to a dam where the Friends of Humanity were keeping Kurt's mother hostage. While there they learned that his mother was Mystique, Rogue was his step-sister, and Graydon Creed was his half-brother. Kurt forgave Mystique for abandoning him and she apparently sacrificed herself to save him. The Friends of Humanity were arrested, Mystique survived, and Creed was sent to see his father.
Spider-Man villain Hobgoblin used a Halloween costume to strike fear into his opponents. He also had Norman Osborn design pumpkin bombs that looked like Jack-o'-Lantern. Osborn used the same weapons and an altered costume when he became Green Goblin.
Featured Media
Black cats and goblins and broomsticks and ghosts. Covens of witches with all of their hosts. You may think they scare me. You're probably right. Black cats and goblins on Halloween night. Trick or treat! ("The Uncertainty Principle")
What's new on Marvel Animated Universe Wiki
Blogs
ARTaylor
•
Today is the eightieth anniversary of the premiere of Dumbo. The film is the fourth feature from Walt Disney Animation Studios, based on a short child…
See more >
Navigation