"On Angel's Wings" is the twentieth episode of X-Men: Evolution and the seventh episode of its second season. Originally airing November 17th, 2001, it was written by Greg Johnson, Boyd Kirkland, and Craig Kyle while it was directed by Frank Paur. It features the introduction of Angel, who in the comics is one of the original five members of the X-Men.
It's Christmas time in New York City. Strings of street lights, even stop lights, blink a bright red and green as the shoppers rush home with their treasures. But in a Worthington Towers penthouse, Warren (Mark Hildreth) sits alone until he hears of an apartment fire that has trapped a disabled woman. He flies there on a magnificent set of wings, thanks to his mutant powers, and rescues the woman who thinks he is a guardian angel. At the Xavier Mansion, the X-Men are have a farewell party before they all split up for the holidays. Kurt (Brad Swaile) teases Kitty (Maggie Blue O'Hara) with a strand of mistletoe while Logan (Scott McNeil) turns down Charles's (David Kaye) offer to spend the season with them. Rogue (Meghan Black) gives Scott (Kirby Morrow), who will be the only two staying behind, a sweater making Jean (Venus Terzo) jealous. The next day, everyone heads back to their homes leaving Charles, Hank (Michael Kopsa), Scott, and Rogue behind.
Meanwhile, Warren stops a mugging in Central Park which sparks a media frenzy over the multiple angel sightings. Unbeknownst to him, he is watched by a mysterious figure. His story is picked up by the televised news, Daily Globe, and The Daily Bugle. This catches the attention of the X-Men. Charles realizes this is a mutant but cannot find him since Cerebro is being worked on. Rogue volunteers to go with Scott into the city to investigate. The two visit those the angel has saved and listen to their stories, but cannot find him. At a cafe, the two decide to have fun while they're away. Scott then confesses that after his family's plane crash and finding his brother he believes there may be an angel watching over him and his family.
Later, the mysterious figure, revealed to be the still alive Erik Lehnsherr (Christopher Judge), causes a pile-up on the Brooklyn Bridge that nearly sends a family over the edge into the East River. Warren, now wearing a superhero costume, swoops in and saves the three. Erik then distracts "Angel" with a cable so he accidentally knocks the family's young daughter (Chiara Zanni) over the side. Angel dives after her and saves her but she is unconscious. Erik turns the crowd against Angel who then force him to flee. Scott and Rogue hear about this and go to the hospital to talk to the parents of the girl. Warren visits feeling guilty, but one of his feathers is spotted by Rogue while sneaking out and he flees.
Angel watches over the girl's parents at St. Patrick's Cathedral when he is visited by Magneto. The master of magnetism explains that he too has powers, praises Warren's ability to fly, and warns about how public opinion will turn against them just like it did on the bridge. Magneto wants him to join his forces. When Angel turns him down Magneto tries to capture him. Cyclops and Rogue arrive and help free Angel. During the battle, Rogue absorbs some of Magneto's powers but he flees. She chases after him and they fly through the city. Magneto wins after he slams one of the Chrysler Building's famous eagle statues into the Stark Enterprises' tower knocking her out. Angel saves her from falling to her death and she claims he really is an angel.
At the hospital, Scott extends an invitation to Warren to join the X-Men, but he turns them down. Scott advises that if he doesn't join he should stay low to avoid Magneto's attention. They then overhear that the little girl will be fine. Elsewhere, the Grey family pick out their Christmas tree, the Pryde family light their menorah, Kurt returns to his foster family, Ororo (Kirsten Williamson) overwhelms Evan (Neil Denis) and his father in a snowball fight, Logan plays pool in a bar by himself, and Charles and Hank enjoy the quiet of the empty mansion.
Featured Media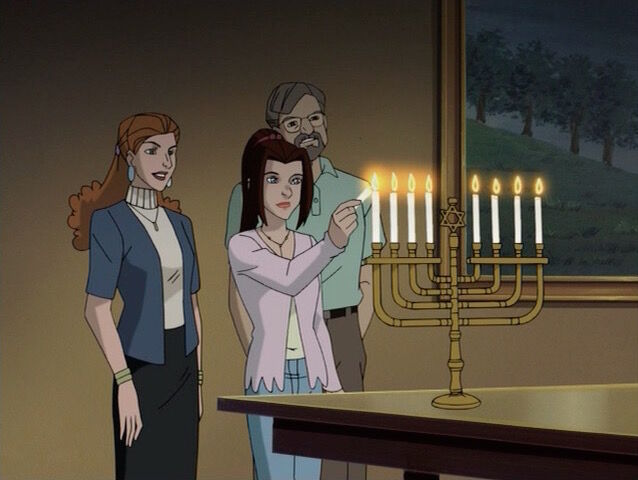 Kitty Pride lights her family's menorah for Hanukkah. ("On Angel's Wings")
What's new on Marvel Animated Universe Wiki
Blogs
ARTaylor
•
Tonight at sunset is the first day of Hanukkah, also known as the Festival of Lights and the Feast of Dedication, a Jewish holiday commemorating the …
See more >
Navigation