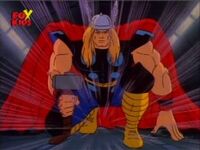 Thor is a character voiced by John Rhys-Davies in all his speaking appearances. He appeared in the Fantastic Four episodes "To Battle the Living Planet" and "When Calls Galactus" and The Incredible Hulk episode "Mortal Bounds". He made a brief unvoiced cameo appearance in the X-Men episode "The Dark Phoenix", and appeared in the opening titles of The Avengers: United They Stand though was the only one of the Avengers "Big Three" that didn't appear in the series.
The mighty Thor is the Asgardian god of thunder, son of Odin, and wielder of the mystical Uru hammer Mjolnir. He came to Earth where he became famous as one of the most powerful superheroes on the planet. The Thunderer became tied to the mortal Donald Blake and would transform back into the doctor if he was away from Mjolnir too long. He joined the Avengers and became one of their most famous heroes along with Captain America and Iron Man, though he didn't stay when Ant-Man took command.
Once, Thor sensed a powerful threat approaching Earth. He teleported into space where he met Ego, the living planet. He fought the enormous creature but was overwhelmed by his power. He sent Mjolnir to Earth to seek help and it retrieved the Fantastic Four. He teamed up with the Four to fight the planet, though Thing became jealous at the idea of anyone being stronger than him. They fought off Ego's defenses until finding a powerful thruster that the planet was using to steer to Earth. Mister Fantastic decided to seek the only one who could have built the engine that powerful, the planet eater Galactus. Thor took Mister Fantastic to the planet eater and made a deal: Galactus would battle Ego saving Earth if they could go back on their previous deal for Galactus to not destroy Earth. The two heroes reluctantly agreed and Galactus went to battle his nemesis. Galactus and Ego began a spectacular battle, but were too evenly matched. Thor used his lightning powers to charge Galactus giving him the power to destroy their foe. Thor quickly saved Thing, who had descended into Ego's core to destroy him, and the two made their peace. However, Galactus warned that he would be back.
Later, Terrax tricked his master into coming to Earth to try to destroy him, but Galactus killed his herald. Unfortunately, Galactus was weakened and decided to feast on Earth. Thor showed up and joined the Fantastic Four and Frankie Raye in trying to stop the giant but all were easily overpowered despite Galactus' weakened state. After Ghost Rider used his Penance Stare, Frankie convinced the others to help Galactus arguing he was a force of nature rather than a fiend. Thor reluctantly agreed and Galactus was saved. The destroyer of worlds thanked the heroes and promised to not destroy Earth, while making Frankie his new herald known as Nova.
When Detroit experienced a strange gamma radiation-based virus, Doctor Blake sought the help of Betty Ross, who convinced him to seek Bruce Banner. Since the only way to find Bruce was to find Hulk, he became Thor and teleported to Mount Rushmore where the jade giant was fighting the Hulkbusters. Thor saved him, but the mere mention of Bruce enraged Hulk and the two fought. Thor soon realized that Hulk was too powerful even for him and was only spared when he transformed into Donald and Hulk left. Donald discovered that Bruce was Hulk and they found him so they could stop the virus. Unfortunately, Betty became sick and Bruce was kidnapped by Abomination. Donald figured Bruce was taken to the salt mines beneath the city and Thor went to save him. Thor found Hulk and convinced him not to fight by telling him of Betty. The two returned to the hospital where Gargoyle provided a cure to save her life.
Featured Media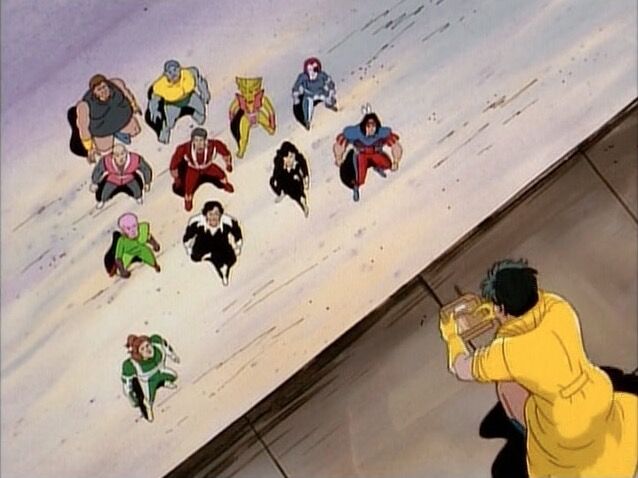 Jubilee uses a remote to free the mutant slaves on Genosha from the power-suppressing collars. ("Slave Island")
What's new on Marvel Animated Universe Wiki
Blogs
ARTaylor
•
Today is the sixty-fifth birthday of Tim Russ. Timothy Darrell Russ was born on this day in 1956 in Washington, D. C. to a government employee mother…
See more >
Navigation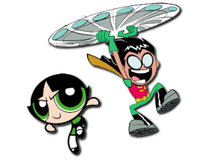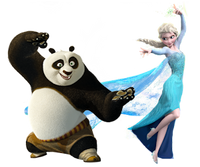 Community content is available under
CC-BY-SA
unless otherwise noted.