Maria Hill is from the Yost Universe series The Avengers: Earth's Mightiest Heroes.
Maria Hill is a top level S.H.I.E.L.D. agent and right-hand woman of Nick Fury.
Biography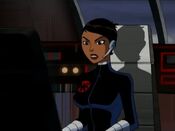 She tried to arrest Iron Man after he had saved the United Nations from HYDRA, but Fury stopped her. She then helped fury stop Grim Reaper from escaping from the Vault with Baron Strucker.
Later when Fury suddenly disappeared, she tried to have the Avengers join S.H.I.E.L.D. or be arrested and they refused.
Background
Maria Hill is voiced by Kari Wührer.
External Links
Community content is available under
CC-BY-SA
unless otherwise noted.