| | |
| --- | --- |
| This article is written from the Real World perspective | |
M.O.D.O.K. was a series from Marvel Animation. The series is the first to focus on the character, though he was a main character for much of Iron Man. All ten episodes aired on May 21st, 2021.
Story
The titular villain has run A.I.M. into the ground as leader. He sells the organization to a Silicon Valley tech giant named GRUMBL where he must balance his new work environment along with his crumbling family life.
Background
The series was announced on February 11th, 2019 at the Television Critics Association press tour. It will be released along with Hit Monkey, leading up to the crossover series The Offenders. This will be similar to Marvel Studios's Netflix series. It would have included Howard the Duck and Tigra & Dazzler before their cancellation, which also cancelled plans for The Offenders.
The series is written by Jordan Blum and Patton Oswalt. Blum, Oswalt, and Jeph Loeb are executive producers.
The series follows M.O.D.O.K. as he struggles to maintain control of his evil organization and his demanding family.[1]
The series first began when Blum met with Marvel to discuss adapting characters. Blum was a fan of MODOK, including his appearances on Iron Man, loving the Jack Kirby design. He began discussing the character with Oswalt asking questions such as "Where does this guy go you know at night when he leaves that Captain America panel?" and "What is it like to run A.I.M? What does that take you know, to run your own evil organization?" It was that discussion that led them to the idea of an office-family comedy that would deal with the bureaucracy of running an organization.[2]
Oswalt also voices the character. "I could not be more excited for you guys to see what we do with M.O.D.O.K. He's the character I was, sadly, born to play."
Blum said of the series, "Who is M.O.D.O.K. to me? Well, you have to start at his creation. I find M.O.D.O.K. to be just as iconic as all the other classic Jack Kirby-Stan Lee collaborations. Kirby's design is the stuff of nightmares yet he's also somehow... slightly adorable? Stan Lee wrote him as this amazing flawed character, always being undone by his inflated ego and thin skin. Over the years he's been portrayed as both a menace and a joke and I think our show is much more interested in exploring him as a human being. A human being who's also a Mental Organism Designed Only for Killing. At the end of the day M.O.D.O.K. is a giant-headed, petulant, insecure, egomaniac with zero social skills. And I for one find that incredibly relatable."[3]
Blum said of the origin of the show, "We obviously love the character as this big villain who is always trying to take over the world and run his evil organization [AIM]. His design by Jack Kirby is so absurd and monstrous that we thought, where does this guy go at night? Does he go home to a house and have all these mundane things he has to do? Does he have a family we never knew about? The more we discussed, the more it just kind of made us laugh and then we tried to figure out well, what would that family be? Who would marry M.O.D.O.K and how hard would it be to be his son or to be a daughter in M.O.D.O.K.'s image?"
He added, "If you're making a show about super villains, you have figure out something more evil [for them to face], so corporations It seemed like an interesting foe for M.O.D.O.K. to come up again because it's one thing to try to kill Iron Man, but it's another when you have all this corporate red tape. He can't blast his problems away, which is how he solves every problem. It'll be his greatest test: Can he out-smart a corporation and take back control after he unknowingly gives it away?"[4]
Before The Walt Disney Company's purchase of 20th Century Fox, the producers pitched using characters from the X-Men franchise. To their surprise, Marvel agreed. Oswalt said, ""I could not believe the Marvel toy box stuff that they let us play with. We pitched a couple of characters, like... some even in the X-Universe. We were like, 'I don't know if they're gonna say yes to this.' And they were like, 'Yeah, go ahead'." He also said, "There were a couple that Jordan and I especially were like, 'Oh, I don't think they realize what they just said yes to." They wrote back-ups in case the characters were not approved, but ended up not needing them.[5]
Blum was given the chance to give the official designation of the show within the Marvel Multiverse as Earth-1226. This is a reference to Blum's son's birthday being December 26th.
Oswalt and Blum are also concurrently writing a comic series for Marvel Comics titled M.O.D.O.K.: Head Games. The series will finish each episode with an advertisement for the comics.[6] Marvel approached Blum and Oswalt after they had finished writing the first season. They did not want to adapt the series into comic form, but were allowed to write within the mainstream comic line using elements of the show.
Animation
In a first for Marvel, the animation will be stop motion. Animation will be done by Stoopid Buddy Stoodios, who work on Seth Green's Robot Chicken. Oswalt said, "we're really packing every frame with crazy detail."[7]
Regarding the animation, Blum said, "We'll see the big battles and the big fights, it's a huge sci-fi Marvel Universe show, but we thought it would be really funny to see [M.O.D.O.K.] dealing with water cooler gossip at A.I.M. shot in this very handheld style and make it feel like you're working at AIM alongside him and the same with the family, too. It's kind of a little inspired by things like Modern Family and The Office where it just makes you feel like you're part of the group in the show."
In October 2020, Marvel ran a contest on their social media accounts to allow a fan to become an animated character in an episode of the series.[8]
Cast
On January 21st, 2020, Marvel announced the main cast of the show. Executive producer and showrunner Jordan Blum said of the cast, "I'm blown away by our insanely talented and hilarious voice cast, who have all brought their specific kind of magic to this weird and wonderful corner of the Marvel Universe." Senior Vice President of Original Programming and Production at Marvel Television Studios Karim Zreik said, "Patton and Jordan have done a phenomenal job in laying the groundwork for this exceptional ensemble, we're thrilled to include this cast in the Marvel family."[9]
On March 27th, 2021, Marvel announced that Jon Hamm, Whoopi Goldberg, Nathan Fillion, and Bill Hader would appear in guest spots.[10]
Fillion's Wonder Man actually came from a deleted scene from the Marvel Cinematic Universe film Guardians of the Galaxy Vol. 2. Wanting to use him, producer Jordan Blum asked director James Gunn for his blessing and got it. He said, "Nathan was perfect, like no one else should play Wonder Man but Nathan Fillion."
Goldberg's casting was an outrageous idea the producers did not think would happen. However, when asked she was eager to do it as no one asks her to play that kind of insane character.
Blum said of Van Der Sleet, "Even though Austin always kind of smiles and spews corporate jargon at him, [Austin is] constantly gaslighting and manipulating him as M.O.D.O.K. falls further within the organization. He's a much more worth adversary than even Captain America for M.O.D.O.K. because it's a battle of wits between the two."
Crew
Episodes
The initial order for the series is ten episodes. They will begin airing May 21st, 2021 and will premiere on Hulu.[11] The series will debut on Disney+ in the United Kingdom and Canada.[12]
The titles for the episodes are based on classic story titles or blurbs.[13]
Music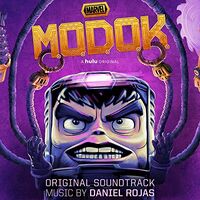 The musical score is provided by Daniel Rojas. The soundtrack was released by Hollywood Records and Marvel Music the same day as the series.[14]
Continuity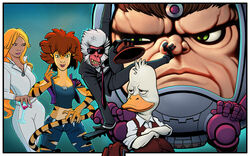 The series exists in the same continuity as Hit Monkey. It was originally going to crossover with Howard the Duck and Tigra & Dazzler in The Offenders, but those three series were cancelled. The original idea was that all four series would be handled in their own way with the showrunners doing their own thing. When the status of The Offenders was still in question, Blum said he was possibly going to be the showrunner on that as well. However, development on Offenders ended with the other two series.
Cancellation
On May 13th, 2022, Variety reported that the series had been cancelled. While no reason was specified, it was believed that it had to do with the departure of Jeph Loeb and ending of most shows under Marvel Television.[15]
Before its cancellation, Blum did say that if they get one the season will be even more heavy in X-Men characters. Blum said, "You know, I think I would love to write a 'Storm/M.O.D.O.K.' scene if I'm allowed to so... That would be my big pick, yeah." He claimed they did already have the structure of the season planned out.
Blum also said he would like to do other Marvel shows. As a fan of X-Men, he would like to see another X-Men series. He also expressed interest in Power Pack or Beta Ray Bill animated series.
Videos
Reception
Siddhant Adlakha of IGN gave the first season a score of eight Great saying "Marvel's M.O.D.O.K. has innovative animation, hilarious banter, and an endearing story about a maniacal supervillain." He called it Marvel by way of Robot Chicken saying it is filled with jokes and visual gags while also being surprisingly effective at character drama as well. He called it the best Marvel series of the year. He said the classic domestic sitcom and modern workplace comedy settings is the perfect launch pad for the plot. He claimed Oswalt is a delight as the titular villain, evoking the character from Jack Kirby. He claimed that the supporting cast added some nice flavor to each episode. He praised the show's humor calling it absurdly funny with something to laugh at with every story beat. He said that all but one episode successfully blended the show's humor, calling out "If Saturday Be... For the Boys!" for not having story or momentum. He also claimed it didn't feel like "appointment-viewing" and audiences would likely watch at their own pace. He lauded the animation citing a stunning amount of detail in every frame. He also enjoyed the effort it took to make it look like hand-held quality video, which is highly unusual for the meticulous design in stop motion. He liked that it was Marvel parodying Marvel without the self-seriousness of the Marvel Cinematic Universe, shared-universe oversight, or need to stay close to the comics. "With the stop-motion stylings of Robot Chicken, Marvel's farcical M.O.D.O.K. series is a refreshing, mile-a-minute comic self-parody. Every line is a laugh, and Patton Oswalt is pitch-perfect as the iconic supervillain, whose Frankenstein origins are traded in for a streamlined saga of ego and ambition, blended with both a modern workplace comedy and a surprisingly moving family sitcom."[16]
Sam Barsanti of The A.V. Club gave the first season a B+. He noted how the show was willing to embrace the Marvel mythology, assuming the audience already knows the history behind the references. He called it an absurdist character-based comedy like American Dad! or Rick and Morty saying it is a bunch of nonsense that takes itself seriously. He enjoyed the playful takes on iconic characters. He claims that Oswalt was born to play the character. He was noted it was an obvious parody of the slob husband stereotypes in sitcoms. He praised how Melissa's appearance wasn't treated differently, given that it would have obviously led to a lazy story about how it's okay to be different. He called the show very funny, citing an episode where M.O.D.O.K. tries to get into a bar with the popular villains. However, he did claim that the silliness causes the show to drag when the show has to deal with its overarching plots. He said it wasn't that either plot was made, but the show isn't as funny when moving the storylines. Though he said that the show's over-arching story is a small part of the series and only stick out because everything else is so much fun. "The show is just a really solid piece of comedy, from the writing, to the animation of the toy-like characters, to the (naturally) Easter egg-filled background gags, and it shows how malleable the superhero genre is once you accept the fact that people don't need to be carefully guided through a comic book universe anymore. The Marvel movies are often at their best when they twist a superhero story into the shape of a different genre, and it's about time that TV similarly embraced the cool things that can be done with comic books if you just shut up and let them be as weird as M.O.D.O.K. is."[17]
Brian Lowry on CNN gave the season a negative review saying the show, decidedly not for children, should entertain comic book fans but said it was offset the by weirdness of the effort. He claimed that fans who once complained about superheroes not being taken seriously on screen may have gotten too much of a good thing in their appetite for all things Marvel. He said the serialized storyline grew darker and odder as the season progressed. He noted how the dialogue and situations explain why the series debuted on Hulu rather than Disney+, though found humor in the idea of parents letting their child watch the next "Marvel show" and coming across this. He noted how the sheer love of comics allowed Marvel the freedom to take a chance on something this self-consciously absurd. However, he felt that with the reliance on violent sight gags and sex that the series had aimed higher. "Clearly, the need for content has thrown open the Marvel vault, especially for streaming, where this kind of strange confection only needs to tantalize a small subset of subscribers. Just visually, the animation technique underscores the mandate to think outside the box, which should generally be applauded. That said, even in the world of supervillains designed for killing, just because you can doesn't always mean that you should."[18]
The series has a 89% on Rotten Tomatoes with the consensus being "Though its tendency toward too-muchness may test some viewers' patience, slick stop-motion, a killer voice cast, and a seemingly endless well of jokes make M.O.D.O.K. an entertainingly chaotic diversion.". On Metacritic it has a score of 71. Upon its release, Rotten Tomatoes ranked it as the forty-ninth highest Hulu original series.[19]
Among fan scores, it holds a 64% on Rotten Tomatoes, 5.8 on Metacritic, and 6.2 on the Internet Movie Database.
The week of its release, the first season was the highest streamed show.[20]
References
External Links