| | |
| --- | --- |
| This article is written from the Real World perspective | |
Lego Marvel Avengers: Climate Conundrum

Beginning date

November 27, 2020

End date

December 18, 2020

Number of Episodes

4


Episodes

Writers

Gavin Hignight

Producers

Jason Closer




Kalia Cheng




Jill Wilfert




Jennifer Twiner




Steve L. Grover




Sofia Finamore




Dan Langlois
Lego Marvel Avengers: Climate Conundrum is a four episode mini-series.
Plot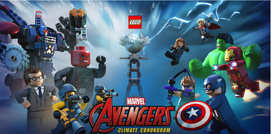 Justin Hammer works with A.I.M. to steal Tony Stark's weather machine. While A.I.M. fights the Avengers, Justin Hammer uses his Detroit Steel Armor to fight Iron Man. However, it is revealed that both Justin Hammer and A.I.M. are working for the Red Skull when Hammer hands the weather machine over to him. Red Skull plans to use the weather machine to create a storm so powerful that it will destroy everything. This will allow Red Skull to re-build civilization in his image. Justin Hammer was unaware that A.I.M. was really working for Red Skull. Hammer tells the Avengers that he wants to rule the world, not destroy it. Justin Hammer then teams up with the Avengers to stop Red Skull. Iron Man realizes that since they can't track the weather machine they have to destroy the towers that pick up the weather machine's signal. After destroying almost all the towers, Iron Man, Captain America and Detroit Steel track Red Skull to his secret base where the final weather tower is located. While Iron Man and Detroit Steel go after the weather tower, Captain America goes after Red Skull. Red Skull activates the weather machine and it starts to create massive destructive storms all around the world. Iron Man and Detroit Steel are able to destroy the weather machine but Red Skull escapes. Only minutes later Red Skull appears on a television screen and tells Cap, Iron Man and Detroit Steel that even though they destroyed Stark's weather machine, A.I.M. scientist were able to reverse-engineer the weather machine and create a weather satellite. However, Captain America makes a phone call to Captain Marvel and tells her about the weather satellite. Captain Marvel then flies into space and destroys the satellite before Red Skull can activate it.
Background
Episodes
Lego Marvel Avengers: Climate Conundrum lasted one season consisting of four episodes.
Lego Marvel Avengers: Climate Conundrum Episodes
Cast
Actor
Role(s)

Giles Panton

Iron Man

/Tony Stark


A.I.M.

Soldier

Michael Daingerfield

Captain America

/Steve Rogers

Bill Newton

Detroit Steel

/Justin Hammer

James Blight

Bruce Banner

/

Hulk

Nicole Oliver

Black Widow

/Natasha Romanoff


Morgan Smith

Adrian Petriw

Hawkeye

/Clint Barton

Alex Barima

War Machine

/James Rhodes

Rebecca Shoichet

Female Inventor


Captain Marvel

/Carol Danvers

Britt McKillip

Head Scientist

Ian Hanlin

A.I.M. Agent


Thor

Alex Zahara

Red Skull

/Johann Schmidt

Cole Howard

Spider-Man

/Peter Parker

Omari Newton

Black Panther

/T'Challa

Lucy McNutly

Barbara Smith

Brian Drummond

Chuck Smith
Crew
| Name | Position |
| --- | --- |
| Ken Cunningham | Director |
| Gavin Hignight | Writer |
| Jan Closer | Executive Producer |
| Kalia Cheng | Executive Producer |
| Jill Wilfert | Executive Producer |
| Jennifer Twiner | Executive Producer |
| Steve L. Grover | Supervising Producer |
| Sofia Finamore | Associate Producer |
| Dan Langlois | Line Producer |
Reception
External Links