Lady Deathstrike

Real Name

Yuriko Oyama

Alternate Identity

Lady Deathstrike
Powers

and Abilities

Long Sharp Fingers, Cybernetic Implants, Healing Factor

Team Affiliations

Weapon X
Team X
Lady Deathstrike is from the Yost Universe video Hulk vs Wolverine.
Lady Deathstrike is a member of Team X and has a deep hatred for Wolverine.
Biography
Her early history was unknown but it is stated that Wolverine had "dishonored" her family years ago presumably in Japan . She have vowed to kill him by any means necessary.
After Wolverine's escape from Weapon X, Lady Deathstrike joined the Team X along with Omega Red, Sabretooth, and Deadpool to kill him at all costs. They were led by the Professor.
It is unknown, but likely, if Weapon X gave her the superhuman abilities she has.
She was with Team X when they were tasked with the capture of the Hulk. The team tracked him to Elkford, a small town in Canada, but the green brute defeated them and escaped.
When Wolverine was sent by Department H to stop Hulk's rampage and almost won, they quickly captured them and took them back to the Weapon X facility.
In his cell, Lady Deathstrike entered and said that he would die for the "dishonor" he brought to her family. Professor tried to reason with her that Wolverine is too valuable for Weapon X until he was stabbed by Sabretooth.
Then she released Wolverine and began to torture him with the help of Sabretooth. He took out the two then got out in his cell to find Bruce Banner.
After the two recovered, Sabretooth had decided to kill Wolverine without the Professor to object their decisions.
They began to attack Wolverine who rescued Banner from his reprogramming chamber in an ensuing battle. Team X nearly won if the Bruce had not transformed into Hulk and attacked them.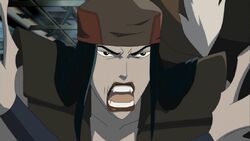 Lady Deathstrike attacked the Hulk who called her "ugly girl". She almost won until Hulk beat her, ripping her robotic arms off in the process.
As the Hulk destroyed the facility, Lady Deathstrike and Omega Red were never seen again and apparently killed. Deadpool, Sabretooth, and Professor were the only known survivors of Weapon X along with Wolverine's clone.
Background
Lady Deathstrike was voiced by Janyse Jaud, who also voiced Hela.
In the Comics
Her real name is Yuriko Oyama.
Has not been a member of Team X.
The reason Deathstrike hates Wolverine is because her father came up with the adamantium bonding process and she views his skeleton as a stain on her father's honor.
External Links
Community content is available under
CC-BY-SA
unless otherwise noted.