Klaw

Real Name

Ulysses Klaw
Powers

and Abilities

Made of Sound

Allies

Man-Ape
Ulysses Klaw was a scientist obsessed with vibranium until he became a creature of pure sound.
Biography
Klaw lead a small band of mercenaries to a S.H.I.E.L.D. research facility in Africa in order to steal a sample of Vibranium.
After killing the S.H.I.E.L.D. agents guarding the facility, Klaw and his men attempted to take the vibranium from the researcher running the project, Hank Pym. Ant-Man used his abilities to easily defeat the mercenaries, but Klaw escaped before Pym could capture him as well.
He later hired Whirlwind to steal a sonic disruptor from a nearby college, which he replaced his right hand with.
Klaw later helped Man-Ape to depose of T'Chaka in order to seize control of Wakanda and its vibranium deposits.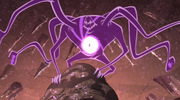 When the Avengers came, he ended up fighting Ant-Man until the Grim Reaper blasted Klaw into the vibranium mound turning Klaw into a sound being. Klaw attacked the HYDRA agents in retaliation. Ant-Man and Iron Man managed to use the vibranium to contain the Sonic Emitter enabling the vibranium to absorb Klaw.
Background
Klaw was voiced by Mark Hamill.
External Links