Jack-o'-Lantern

Real Name

Jack-o'-Lantern
A jack-o'-lantern is a carved pumpkin associated with the holiday Halloween. To make one, the top is cut off and the insides scooped out. A face or picture is carved into the side, a lit candle is placed inside, and the top replaced. The light then flickers giving an eerie effect.
The X-Men carved some pumpkins in preparation for trick or treaters.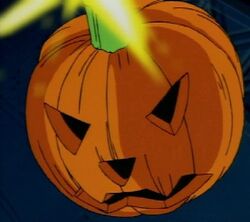 The Hobgoblin's Pumpkin Bombs, later used by Green Goblin and Harry Osborn are based on a jack-o'-lantern.
Background
Even though a villain with name and abilities based on the Jack-O'-Lantern exists in the Marvel Universe, he has never appeared in the Animated Universe.
External links
Community content is available under
CC-BY-SA
unless otherwise noted.