| | |
| --- | --- |
| This article is written from the Real World perspective | |
Iron Man: Armored Adventures was the third animated series featuring Iron Man, the first two being The Marvel Super Heroes and Iron Man. It aired between April 24th, 2009 and July 25th, 2012 for a total of fifty-two episodes.
It is not related to any previous series or movie but shares some story parallels with The Invincible Iron Man. It follows in the success of the live action Iron Man film.
Story
The series follow a teenage version of Tony Stark, a child prodigy, who forms for himself the alter ego of Iron Man. He uses his technological innovations to stop enemies like Mandarin and Unicorn. He is helped by his also teenage friends James "Rhodey" Rhodes and Pepper Potts.
Howard Stark refuses to let Obadiah Stane weaponize the Earth Mover Project. However, he is killed in a plane crash that leaves Tony severely injured. He attends school because of his father's last wish as Stane, now CEO of Stark International, claims.
The second season featured Titanium Man, Iron Monger, Black Widow, and Doctor Doom. [1][2]
Background
Deaging Iron Man into a teenager could possibly a reference to an infamous comic book story titled The Crossing. In the series, it is discovered that Iron Man was working for Kang so the Avengers went back in time and had a teenage Tony become Iron Man to fight the older version. Eventually the older Tony sacrificed himself so that teen Tony would be the new Iron Man. Teen Tony was killed during the Onslaught event and the whole thing was undone with Heroes Reborn.
Following the release of the series second season, the series status became unknown. Rumors circulated that it was cancelled but there was no official word.
On January 18th, 2013, Cort Lane spoke to IGN about the series and said, "I will say that that second season finished production some time ago. I think it's fair to say there are currently no plans, but that is not written in stone." [3]
Animation
The animation uses three-dimensional computer generated imagery much like Spider-Man: The New Animated Series.
Cast
Recurring Actor
Role(s)

Adrian Petriw

Iron Man/Tony Stark

Daniel Bacon

War Machine/James Rhodes

Anna Cummer

Rescue/Pepper Potts

Alistair Abell

Happy Hogan




Black Knight

Lisa Ann Beley

Onboard Computer


Abigail Brand

Mackenzie Gray

Iron Monger/Obadiah Stane

Catherine Haggquist

Roberta Rhodes

Kristie Marsden

Madame Masque

/Whitney Stane
Vincent Tong
Mandarin
Gene Khan


Xin Zhang

Michael Adamthwaite

Titanium Man

/Justin Hammer

Ashleigh Ball

Black Widow

/Natalie Romanoff
Eric Bauza

Thaddeus Ross

Jeffrey Bowyer-Chapman

Black Panther

Christopher Britton

Doctor Doom

Louis Chirillo

Living Laser/Arthur Parks

Michael Daingerfield

Unicorn

Michael Dobson

Ghost


Makluan Warrior

Brian Drummond

O'Brian




Makluan Warrior

Mark Gibbon

Hulk

Andrew Francis

Rick Jones




Hawkeye

Ron Halder

Abraham Klein




Magneto




Charles Xavier

Fred Henderson

Howard Stark

Peter Kelamis

Whiplash
Michael Kopsa

Controller

Paula Lindberg

Sasha

Donny Lucas

Mr. Fix

Richard Newman

Anton Harkov

Brenna O'Brien

Mad Thinker

Mark Oliver
Ivan Vanko

David Orth

Blizzard

Ty Olsson

Killer Shrike

Dean Redman

Nick Fury

Russell Roberts

Count Nefaria

Tabitha St. Germain

Maria Hill




Technovore

Venus Terzo

Jean Grey

French Tickner

Zimmer

Lee Tockar

MODOC
Dale Wilson

Robert Kelly

Alex Zahara

Peter Corbeau
Venus Terzo and Dale Wilson reprise their roles from X-Men: Evolution. Mark Gibbon reprised his role from Fantastic Four: World's Greatest Heroes.
Episodes
The series began airing on April 24th, 2009 and ended July 25th, 2012. Each season was twenty-six episodes each for a total of fifty-two.
Trailer
Trailer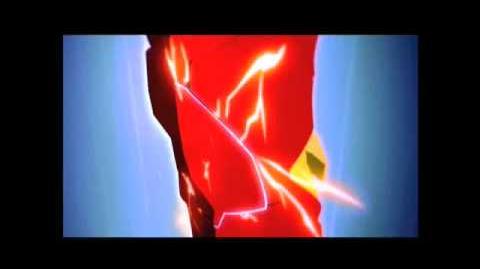 Home Video
Iron Man: Armored Adventures Volume One, released on DVD and Blu-ray contains the first six episodes.
Reception
As of yet, reviews have been mixed. There has been criticism of making Tony a teenager, a far cry from his comic and previous origins. There were similar outcries against X-Men: Evolution which also deaged the characters. This may have been done to differentiate it from the live action film, which took an adult take on the character.
The animation style was criticized as being half-formed and unfinished and the characters were lifeless.
Though Entertainment Weekly gave the first episode a B+ saying "What could've been a clunky retrograde reboot works surprisingly well, thanks to some smart writing and stellar CG butt-kickery."
Scott Chitwood of Comingsoon.net, in his review of Iron Man: Armored Adventures Volume One, said that he, his wife, and his children had gotten into the series. "It's kind of like Ultimate Spider-Man where the adult hero was taken back to high school. The only difference is that Tony Stark has to deal with his father's company, too." It was good that it distanced itself from the film while being relatable to kids, and Pepper Pott's expanded role gives something for the women to enjoy. There were a lot of references to the comics despite being so different, including all the favorite villains. He said the new origin of Mandarin worked for the show and he would like to see it adapted to the films. He called the CGI impressive and reminiscent of Spider-Man: The New Animated Series, saying it worked well and gave it a fresh feel. "Overall I recommend Iron Man: Armored Adventures to any fan of the Iron Man comics and anyone that was into the movie. It's a fun series worth checking out." [1]
Rotten Tomatoes ranked the series among its top one-hundred superhero series with this series at eighty-six, above Big Hero 6 at one-hundred and below Spider-Woman at eighty-nine, Ultimate Spider-Man at eighty-three, Spider-Man Unlimited at seventy-three, The Avengers: Earth's Mightiest Heroes at sixty-nine, The Super Hero Squad Show at sixty-eight, X-Men: Evolution at sixty-six, Fantastic Four at sixty-four, Avengers Assemble at fifty-eight, Guardians of the Galaxy at fifty-five, The Marvel Super Heroes at fifty-one, Spider-Man and His Amazing Friends at forty-eight, The Spectacular Spider-Man at forty-six, Spider-Man at forty, Spider-Man at nineteen, and X-Men at five.[4]
References
External Links
Iron Man: Armored Adventures Episodes
Season One
"Iron, Forged in Fire, Part One" • "Iron, Forged in Fire, Part Two" • "Secrets and Lies" • "Cold War" • "Whiplash" • "Iron Man vs. the Crimson Dynamo" • "Meltdown" • "Field Trip" • "Ancient History 101" • "Ready, A.I.M., Fire" • "Seeing Red" • "Masquerade" • "Hide and Seek" • "Man and Iron Man" • "Panther's Prey" • "Fun with Lasers" • "Chasing Ghosts" • "Pepper, Interrupted" • "Technovore" • "World on Fire" • "Designed Only for Chaos" • "Don't Worry, Be Happy" • "Uncontrollable" • "Best Served Cold" • "Tales of Suspense, Part One" • "Tales of Suspense, Part Two"
Season Two
"The Invincible Iron Man, Part One: Disassembled" • "The Invincible Iron Man, Part Two: Reborn!" • "Look into the Light" • "Ghost in the Machine" • "Armor Wars" • "Line of Fire" • "Titanium vs. Iron" • "The Might of Doom" • "The Hawk and the Spider" • "Enter: Iron Monger" • "Fugitive of S.H.I.E.L.D." • "All the Best People are Mad" • "Heavy Mettle" • "Mandarin's Quest" • "Hostile Takeover" • "Extremis" • "The X-Factor" • "Iron Man 2099" • "Control-Alt-Delete" • "Doomsday" • "The Hammer Falls" • "Rage of the Hulk" • "Iron Monger Lives" • "The Dragonseed" • "The Makluan Invasion, Part One: Annihilate!" • "The Makluan Invasion, Part Two: Unite!"