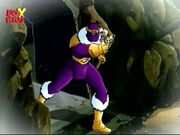 Baron Heinrich Zemo was a Nazi soldier during World War II and the father of Baron Helmut Zemo.
Biography
Baron Zemo fought on the side of the Nazis in World War II against Captain America.
During a battle, Zemo tried to shoot Captain America, but his shield blinded him and Zemo shot blindly, with a lost shot causing an avalanche that buried him.
Background
Heinrich Zemo was unvoiced.
While most of his costume is Heinrich's, he has a tight cowl like Helmut.
In the comics
He was the original leader of the Masters of Evil.
He died in a similar way to what was later shown in the series.
External Links