| | |
| --- | --- |
| This article is written from the Real World perspective | |
Note: this article describes an upcoming release.
Guardians of the Galaxy is an upcoming series from Marvel Animation.
Marvel Comics editor Steve Wacker suggested that a series based on the Guardians of the Galaxy was in the works. It was discussed at a writing summit for Disney XD's Ultimate Spider-Man. "Now, look, I can't officially confirm that we spent a LOT of time talking about the Guardians of the Galaxy cartoon but wouldn't that HYPOTHETICALLY… be amazing?" Wacker wrote. [1]
An unnamed source for JoBlo reportedly confirmed that a Guardians of the Galaxy series would be produced for a Fall 2015 debut. [2]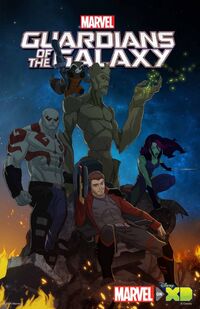 The Marvel Animation panel at the San Diego International Comic-Con in 2014 showed test footage from the series. The footage had Rocket Raccoon running from unknown attackers until he encounters Star-Lord. The panel revealed that a Guardians series had been planned since Ultimate Spider-Man. [3]
The same footage was shown at New York Comic Con where it was formally announced that the series was actually in production.
Disney XD senior vice-president of programming and general manager Mark Buhaj said of the seires, "The movie and franchise quickly became a worldwide phenomenon. We're looking forward to working with the great team at Marvel Television to deliver an engaging animated series that fans can enjoy each week."
Head of Marvel Television Jeph Loeb said "This is a very exciting time for the Marvel Animation Studio as we get to explore the cosmic side of the Marvel Universe by developing the first-ever Marvel's Guardians of the Galaxy animated series. After starring in the biggest movie of 2014, everyone wants more of Star-Lord and his crew, now they'll get it." [1]
The line-up seen in the announcement image appears to be the same as the live-action 2014 film.
Video
Test Footage
References
Community content is available under
CC-BY-SA
unless otherwise noted.