Git Hoskins is a member of the Human Resistance.
Biography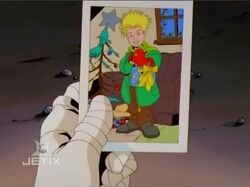 He was a young boy living in The Basement on Counter-Earth. One day he was kidnapped by Sir Ram and experimented on. He was turned into living bandages. He eventually joined the Resistance and helped humans take down High Evolutionary, Knights of Wundagore, and Bestials.
Background
Git never spoke in the series.
He is an original character to the series.
External Links
Community content is available under
CC-BY-SA
unless otherwise noted.