Genosha Beach Inn

Real Name

Genosha Beach Inn

Team Affiliations

Genosha
The Genosha Beach Inn is a luxury resort in Genosha.
History
They would advertise the resort in the United States of America.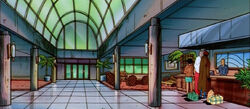 Rumors began circulating that the nation was welcoming to mutants. This was a trap by Leader to lure mutants to the island to create a slave force to build the nation's infrastructure. The resort was actually a trap. When mutants were identified, they were sent to a special room for capture.
The X-Men Storm, Gambit, and Jubilee went there. The receptionists discovered that they were mutants and sent them into the trap where a Sentinel caught them.
Background
The Inn is original to the series.
Community content is available under
CC-BY-SA
unless otherwise noted.