France is a country on the continent of Europe. Its capital is Paris. One of the most iconic images is the Eiffel Tower. Montmartre is a district in the northern part of the Paris.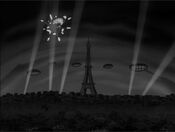 During World War II, the country was taken over by the Nazis. It was filled with searchlights and blimps floated in the skies above. Explosions went off in the air around the tower but it was not damaged.
Logan was sent into Paris by the Office of Strategic Services. He met up with Justine Cocteau and Happy Sawyer at the Ferme Bakery. Sawyer ordered him to go to Chateau du Mort to rescue Andre Cocteau. Along the way, Logan met up with Captain America and they saved a young boy from some Nazi soldiers.
It was eventually liberated by the Allies.
Andre Cocteau and a soldier named Duke were buried in a cemetery that was on a hill overlooking the city. Ernie and two other veterans had gone to see Duke, who had saved their lives. At the same time, Logan went to the cemetery as he had been hunting Cocteau since the war. Justine found him and explained that Andre was actually working for the Allies. Logan, Justine, Ernie, and the veterans all made their way to a nearby bistro.
Background
France went unnamed in the series.
External Links
Community content is available under
CC-BY-SA
unless otherwise noted.