| | |
| --- | --- |
| This article is written from the Real World perspective | |
She-Hulk is invited to participate in a fashion show. However, when the show is taken over by the Leader and Bruce captured She-Hulk, Betty Ross, and the models must save the day.
Story
Quotes
"Hi, Jen. Or should I say "Mystery Model"! What about Bruce. Did you tell him that I'm here?"
-Betty Ross
"Betty?"
-Bruce Banner
"I missed you Brucie!"
-Betty Ross
Trivia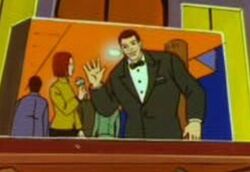 Goofs
Continuity
Background
Writer John Semper, Jr. is best known as the story editor of Spider-Man.
Reception
"Stu" of Marvel Animation Age said, "explaining how bad an episode like this is is a waste of both my time and yours. A complete and utter disappointment." He said having She-Hulk at a fashion show, with her wanted cousin, was a terrible plot. He said the shot of Ogress holding a bikini was particularly excruciating. He also complained about the three models. He said he dreaded rewatching the episode and didn't want to spend too much time on it.
The episode has a 9.1 Superb on TV.com.
External Links
Community content is available under
CC-BY-SA
unless otherwise noted.