Dam

Real Name

Dam
A dam is a structure that restricts or stops the flow of water. They are often constructed as a power plant to provide hydropower to nearby areas. Dams create a reservoir that can be used for agriculture, recreation, or consumption. Some dams are used to redirect water.
History
The United States of America built the Hoover Dam along the Colorado River between Nevada and Arizona. Zzzax almost destroyed it but Hulk stopped him.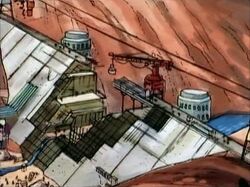 Genosha used mutants as slave labor to build a dam to power the island. However, the X-Men freed the slaves and destroyed the dam.
Firebrand destroyed a dam to attack Iron Man.
The Friends of Humanity lured Rogue and Nightcrawler to a dam using Mystique so that Graydon Creed Jr. could kill them. However, the X-Men rescued Mystique and defeated Creed.
External Links
Community content is available under
CC-BY-SA
unless otherwise noted.