A Christmas tree star is a star decoration put on the top of a tree during the Christmas season. Sometimes the star will be replaced with an angel. The star or angel represents the host of angels or the Star of Bethlehem from the Nativity story.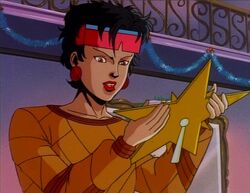 During her first Christmas with the X-Men, Jubilee was handed the largest star she ever saw. She was amazed that the X-Men had a star so large. Rogue flew her up so she could be the one who put it on.
On Counter-Earth, Git Hoskins made a tree star out of paper based on one his family had. He put it on a tree sitting in The Basement. However, the wind blew it off. When he chased after it he was confronted by Sir Ram who kidnapped him.
Community content is available under
CC-BY-SA
unless otherwise noted.