Christmas Tree is from the Non MAU series The Spectacular Spider-Man.
A Christmas tree is a decorated evergreen tree, usually real but sometimes artificial, associated with the holiday of Christmas. They are usually covered in Christmas Decorations and topped with a star.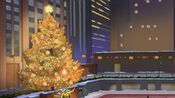 Smaller trees are brought inside a house where presents are placed beneath the tree. Many cities and landmarks feature their own larger trees. Rockefeller Center had a gigantic tree near their ice skating rink. People often gather to the center when it becomes dark so they can see the tree light up.
Peter and May Parker put up a tree in their house. Peter put a wrapped picture of his deceased uncle under the tree with other presents. On Christmas Day he gave the gift to her.
On Christmas Eve Peter and several of his friends from high school went to Rockefeller Center to ice skate. While there, Kraven the Hunter tracked Spider-Man to the area. After getting the go-ahead from the Master Planner Electro and Vulture attacked the skaters.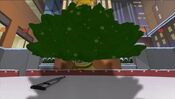 Spider-Man eventually made his way to the top of the tree on top of the star. He webbed up Vulture and slammed him into the tree. Electro then fired at Spider-Man who leapt away and hit the tree. Vulture was shocked and the tree broke out in flames. The trunk eventually cracked and the tree fell over crushing Vulture. Spider-Man and Electro went off and the remaining people called the police.
Captain George Stacy arrived and they brought a crane to lift the tree. Gwen Stacy worried that Peter had been crushed by the tree since he was no where to be found. Mary Jane Watson tried to comfort her until Peter showed up explaining that he was down the street getting cocoa.
While working on the crane, Master Planner managed to tunnel under the ice and extract Vulture. The tree was eventually lifted and Vulture was no where to be found.
External links
Community content is available under
CC-BY-SA
unless otherwise noted.