Chicken

Real Name

Chicken
Chicken is from the Funko Universe video Spellbound.
A chicken is a kind of bird.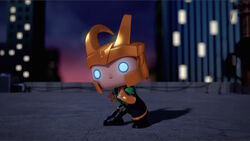 Following a battle with Loki, Spider-Man used the villain's own scepter to make him think he was a chicken. Loki began strutting around, flapping his arms like a bird, clucking, and scratching at the ground.
Background
Loki's mental state was unnamed.
External Links