Baymax

Real Name

Baymax
Powers

and Abilities

Robot

Team Affiliations

Big Hero 6

Family and Friends

Baymax II (Duplicate)
Baymax is a robot.
Biography
Baymax is an inflatable robot designed for medical care. However, Hiro Hamada gave him armor to become a superhero.
Background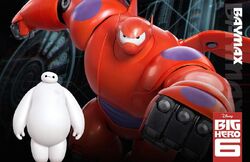 Baymax is voiced by Scott Adsit.
The first version of the character outside the comics. As of yet, all subsequent versions, seen in various video games, have been based off this version.
In the Comics
Was designed and built by Hiro following the death of his father.
Is made of metal.
External Links