Avengers is from the Non MAU series The Marvel Super Heroes.
The Avengers are a group of Earth's mightiest heroes who have banded together to deal with threats that no single hero could handle.
Members
Former members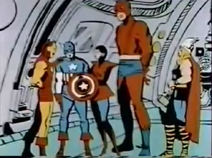 History
The original Avengers found the frozen Captain America who, upon wakening, joined them. Shortly after returning to land all of the Avengers were turned to stone except for Captain America. However, Captain America defeated Vuk and revived the Avengers.
The Avengers later fought Baron Zemo and his Masters of Evil.
Captain America would later lead a new Avengers roster formed by Hawkeye, Quicksilver, and Scarlet Witch.
Background
First version of the team outside the comics.
External Links
Community content is available under
CC-BY-SA
unless otherwise noted.