Apocalypse is from the Yost Universe series Wolverine and the X-Men.
The mutant known only as Apocalypse is the master of the supervillain Mister Sinister.
Biography
Little is known about Apocalypse.
At some unknown point he allied himself with Mister Sinister, who then formed the Marauders.
At some point, Warren Worthington III lost his wings because of his father. Warren came to Mister Sinister hoping to get them back. Instead, Sinister transformed him into Archangel. Wolverine came looking for Warren but found his friend transformed and was attacked by the Marauders.
After Wolverine and Archangel left, Apocalypse entered Sinister's lab.
Alternate Universe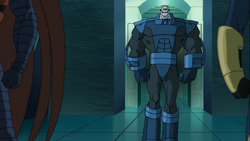 In an alternate universe, Apocalypse took over the planet. Mister Sinister and Cyclops appeared to be his close allies.
Charles Xavier was able to show Wolverine a vision of this after the elimination of the Days of Future Past timeline.
Background
First animated version to go unvoiced.
Was likely intended to be the main villain of the second season before Wolverine and the X-Men's cancellation.
In the Comics
He is an ancient mutant who went by the name En Sabah Nur.
He has a variety of mutant abilities and can augment himself further. He is also a genius with knowledge of physics and biology. He also has access to alien technology.
He once merged with Cyclops.
He has made Hulk, Wolverine, Polaris, Gambit, and Psylocke into Horsemen.
External Links
Community content is available under
CC-BY-SA
unless otherwise noted.