Africa is from the Christopher Yost Animated Universe.
Africa is one of the seven continents on planet Earth.
History
Africa is home to Wakanda, which is ruled by a monarch who takes the title Black Panther. The most recent Black Panther is T'Challa who took the throne after the death of T'Chaka.
Ororo Munroe comes from Africa where she is worshipped as a Goddess. When the X-Men disbanded she returned there. Shadow King tried to get her to destroy the continent but was stopped by the reformed X-Men.
The mutant haven of Genosha, ruled by Magneto, is located on in Africa.
Alternate Version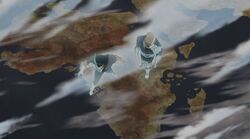 In a dystopian future, Shadow King was successful and Storm devastated the continent. Charles Xavier told Wolverine about it and he was successful in preventing the catastrophe.
External Links
Community content is available under
CC-BY-SA
unless otherwise noted.